EUROPE
Visit Belém – a beautiful district of Lisbon
If you would like to venture a little bit further out of central Lisbon, the district of Belém is a perfect getaway from city life.
It's located 7 kilometres south-west of Lisbon's centre, at the mouth of the River Tagus
It has great maritime history, national monuments and museums
It was from here that Vasco da Gama set off for India in 1497!
It's filled with parks, green plazas and open spaces, so it feels like a breath of fresh air
THE place to buy the world-famous custard tarts – pastéis de Belém – they are a must-eat while you're there!
---
Quick tip: Quite a few of the sights are closed on Mondays and many are free on the first Sunday of the month, so double check before going and plan away!
---
1. Belém Tower (Torre de Belém)
It is the most known attraction here and a symbol of Lisbon and the Age of Discovery. It is listed as UNESCO's World Heritage monument as well.
Built in 1520 as a fortress to defend the mouth of the Tagus River and later transformed into a lighthouse and customs house. At that time it was stood in the middle of the estuary, but time and tide have shifted the river's course since and now it sits close to the river bank.
It is a beautiful example of the Manueline style (created during the reign of King Manuel I), incorporates many stonework motifs, ornate balconies and a gargoyle of a rhinoceros – it was Europe's first recorded evidence of the existence of a rhinoceros (!).
You can of course go inside, but bear in mind that there is a limited number of people allowed to enter at a time. So it is advisable to make your way there as soon as the tower opens. A tour takes you from the lower battery, which served as a magazine and a dungeon, to a top terrace where you get a breezy panorama of Belém.
TICKETS: The admission to the tower costs €6 for an adult and €3 for a concession. You can also buy a combined ticket here for the Tower and Jerónimos Monastery and skip the line at the monastery later. Tickets can be purchased online on the tower's website.
---
2. Jerónimos Monastery (Mosteiro dos Jerónimos)
It is a spectacular religious building that was historically associated with the early sailors and explorers. For example, Vasco da Gama spent his last night there before his voyage to India.
Construction on it began in 1501 and lasted for a hundred years. The Jerónimos Monastery's church and the two-story cloister are considered the greatest examples of Manueline architecture in the country. And the decorative ornamentation and symbolism are just breathtaking. In the Church of Santa Maria you can find the tombs of Vasco da Gama and poet Luis de Camões.
TICKETS: €10 for an adult, €5 concession, you can purchase your tickets here.
---
3. Monument to the Discoveries (Padrão dos Descobrimentos)
While by the river bank you simply can't miss this 52-metre high monument. It was built to commemorate the 500th anniversary of the death of Prince Henry the Navigator, one of Portugal's greatest discoverers. It represents the prow of a caravel (a small sailing ship) with sculptures of important historical figures such as King Manuel I, Luis de Camões, Vasco da Gama, Magellan and several other notable Portuguese crusaders, monks, cartographers and cosmographers. The only female is queen Felipa of Lancaster, mother of Henry the Navigator.
To see Belém from above you can visit the observation deck on top of the monument. It overlooks a magnificent marble mosaic of a compass and a world map. It's 50 metres in diameter and was a gift to Portugal from the Republic of South Africa.
TICKETS: €6 or €3 concession, for online tickets visit this website.
4. Eat pastéis de Belém
You can't leave Belém without trying their famous pastéis de Belém! You might have heard about pastéis de nata – a typical and delicious Portuguese egg custard tarts, you can buy them everywhere in Portugal.
But Belém ones are considered to be the original and the best and you can buy them only there. So head to the Fábrica dos Pastéis de Belém, the shop that invented that mouth-watering dessert in 1837 and still makes them following the original (secret!) recipe. You can either sit in or queue up to grab a box to take away.
I have to say it was my favourite thing to do in Belém. 😀 I bought a box of 6 and ate them all by myself. Can you tell I have a sweet tooth? 😉
WHERE TO FIND THEM: Fábrica dos Pastéis de Belém, Rua de Belém 84 92, 1300-085 Lisboa.
---
5. Museum of Art, Architecture and Technology (MAAT)
And if you walk along the riverside back towards central Lisbon you can admire this impressively futuristic building.
You can walk across the roof (for free) to enjoy some are stunning views of the 25th April Bridge and the river.
TICKETS: The museum and its many exhibitions cost €9, concession €6. It's free for all visitors on the first Sunday of every month. See the MAAT's website for updated info.
---
6. Ajuda Botanical Garden (Jardim Botânico da Ajuda)
It is the oldest botanical garden in the country, laid out on two levels in 1768 as part of Ajuda Palace. There are plants from several of Portugal's former colonies and some centuries-old tree. It is a very elegant place too, with statues and a Baroque fountain decorated with serpents, fish, sea horses, and mythical creatures.
The grounds are laid out in a grand geometric plan with manicured hedges, low walls and ornamental fountains. Peacocks stroll through the garden which is also now a natural habitat for other urban creatures in Lisbon.
You can also admire some grand views over Belem, the Tagus River and the 25 de Abril Bridge.
TICKETS: €2 (concession €1).
OPENING HOURS:
November 1 – March 31: 10 am – 5 pm
May 1 – 31 September: 9 am – 6 pm (weekends & holidays 9 am – 8 pm)
April & October: 10 am – 5 pm (weekends & holidays 10 am – 6 pm)
The gardens are closed on 25th of December & 1st of January
---
7. Ajuda Palace (Palácio Nacional da Ajuda)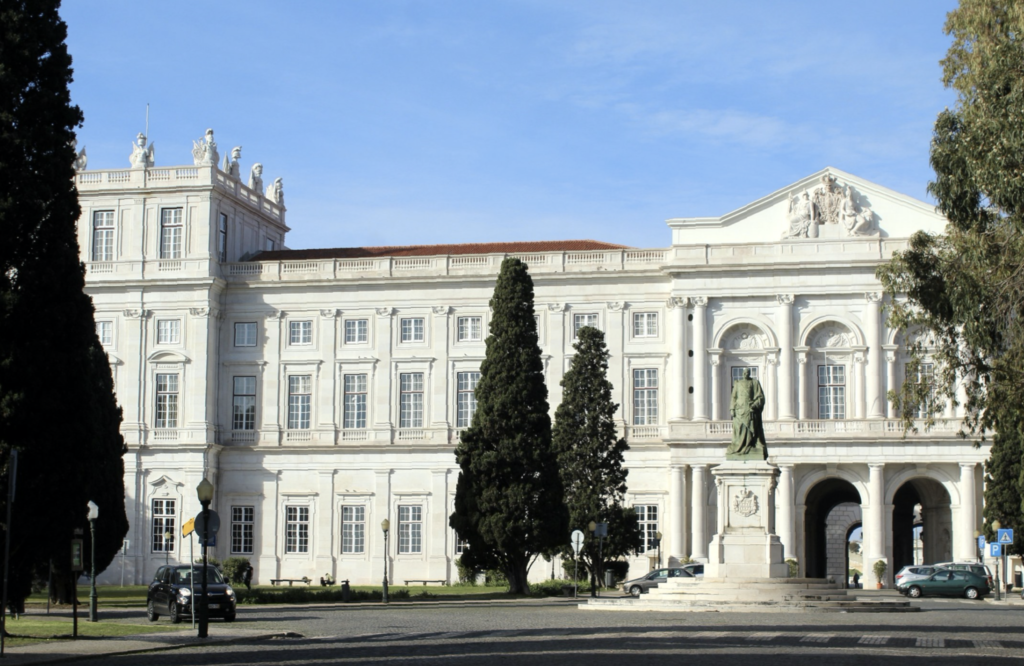 The Palace of Ajuda was built over a temporary wooden palace constructed for King Joseph I of Portugal. He had developed a fear of sleeping in stone buildings after the 1755 earthquake, which had devastated the capital.
Its construction was delayed at numerous stages due to economic or political strife in Portugal. It only became the official residence of the Portuguese royal court 150 years after the initial construction. The Palace of Ajuda then served as a royal residence until the end of the monarchy in 1910.
In 1968 it opened to the public as a house-museum and since the eighties has grown to be an outstanding museological institution.
The lavish rooms have now been fully restored. A walk through the palace reveals the life of absolute luxury enjoyed by the royal family in the 19th century.
GETTING HERE: The palace is regarded as being in Belem, but is quiet a walk from the other tourist monuments and sights and requires a walk up a steep hill. The best is to go there by tram or bus terminating close to the Ajuda Palace. (Bus 727, 729, 732, tram 18).
TICKETS: €5 (concession €3). The palace is open for visits from 10 am till 6 pm every day, except Wednesdays and Thursdays.
---
8. National Museum of Coaches (Museu dos Coches)
This museum exhibits one of the most important collections in the world – royal horse-drawn carriages. You can admire these wonderfully decorative carriages from many centuries, including those used by European royalty.
The museum has two buildings – the main collection is presented in an ultra-modern complex. The second, smaller collection, is on show in the formal royal arena.
GETTING HERE: Take a bus (28, 714, 727, 729, 751) or a tram 15.
TICKETS: €8, concession available.
OPENING TIMES:
New Building – 10am – 1pm (last entry at 12 noon). And from 2:30 pm to 5 pm (last entry 4pm).
Museum is closed on Mondays.
For more information you can visit the museums official website.
---
Bonus tip:
If you'd like to visit most of these attractions you might consider getting yourself the Lisboa Card, as it will save you some money! The 24-hour Lisboa Card costs €20.00, 48hr is for €34.00 and the 72-hour one €42.00. You'll get a free or discounted entry to many of Lisbon's attractions and all your transport is for free too. For more information visit the Lisboa Card's website.
---
Getting to Belém from central Lisbon:
Belém is located 7 kilometres west from the city's centre and there are a few modes of transport for you to consider:
TRAM:
Tram 15 (or E15) runs from Praça da Figueira, thorough Praça do Comércio and Cais do Sodré all the way to Belém. It runs every 10-15 minutes and the ride takes about 25 minutes from Praça da Figueira. The best place to get off is at the Jerónimos Monastery stop (Mosteiro dos Jerónimos) and that walk to see all of the attractions. But beware of the pickpockets, as they very often target tourists on this route! The ticket costs €3.00 with the Viva Viagem Card or free if you use the Lisboa Card.
TRAIN:
Take the Lisbon – Cascáis train from the Cais do Sodré Station (Linha de Cascáis). The journey takes only 7 minutes and trains are rather frequent (every 12-15 minutes). Belém train station is a 10-minute walk to the Jeronimos Monastery and around 20 minutes to Belém Tower. Tickets from Cais do Sodré to Belém cost €1.35.
BUS:
There are a lot of buses running from Central Lisbon to Belém. The ticket costs €2.00 and the journey time depends on where you start. For example bus line 728 from Praça Comércio, through Cais do Sodré Station to Belém Station takes 22 minutes. Or line 714 from Rua de São Paulo to Jeronimos Monastery takes around 33 minutes.
HOP-ON HOP-OFF BUS:
You can use a Yellow Bus 'Belém Lisbon' tour departing from Praça Figueira (blue tour). The full loop trip takes apron 1 hour 40 minutes. The adult 24-hours ticket costs €17, 48-hours one is €22. For more information visit the Yellow Bus website. The alternative is a Red Bus tour 'Red Line'. It departs from Marquês de Pombal Station and the loop takes 90 minutes to complete. The 24-hour ticket costs €22. Please visit the CitySightseeing website for more information.
BICYCLE OR A SCOOTER:
Using a shared bike or scooter is now a popular way to get around Lisbon, both by locals and tourists. So why not make it an active day trip and enjoy a ride yourself? There are a few bike share rentals in Lisbon, they can be found in various places in the city. The most popular bike hire companies are Gira, Jump (rented through Uber app) or Lime. Or join various bike tours from Lisbon – they usually around 4 hours. For a scooter hire download the app for Lime, Bungo, Hive, Iomo, Tier, Voi or Wind – and use the map to find an available scooter nearby.
---
Belém is a great destination for a day trip from Lisbon, but if you have more time to spend there, you will have more than enough things to see and do!
Jo xx