EUROPE
Zalipie – the most beautiful painted village in Poland
In south-eastern Poland, some 100 kilometres northeast of Kraków, lies Zalipie, one of the most unique and beautiful places in the old Polish countryside. Despite its small size, it's been attracting people from all over the world. All thanks to the long-lasting tradition of painting houses in colourful flowery patterns!
There are around 50 houses embellished with beautiful floral folk motifs, but the fun doesn't stop there. You can find ornaments on dog houses, chicken coops, wells, trees and barns. Even the fire station is flowery!
---
How did it all start?
The ornamentation tradition began in the late 19th century, when women of Zalipie started covering the ugly looking soot on the walls. Back then the houses didn't have chimneys, so the smoke from the cottage hearths was floating around the main room, blackening the interior. So they were painting the soot over with white paint made of lime, milk and eggs.
The brushes were quite primitive at the beginning as well, made from birch and willow sticks. Over time women learned to make finer brushes by adding horsehair to their tips and began using colour.
The primitive spots evolved into flowers – peonies, roses and lupines, just like those blooming in their village fields and gardens.
The tradition was passed over from generation to generation, as grandmothers taught the floral art to their daughters and granddaughters.
---
Visiting Zalipie and the painted houses
Despite its beauty and unique tradition, Zalipie is not invaded by hoards of tourists. Although it's estimated that over 19,000 people stop by the village each year! We visited it in the middle of summer 2017, and it seemed like we were the only tourist there.
The houses are the most important element of the village's landscape.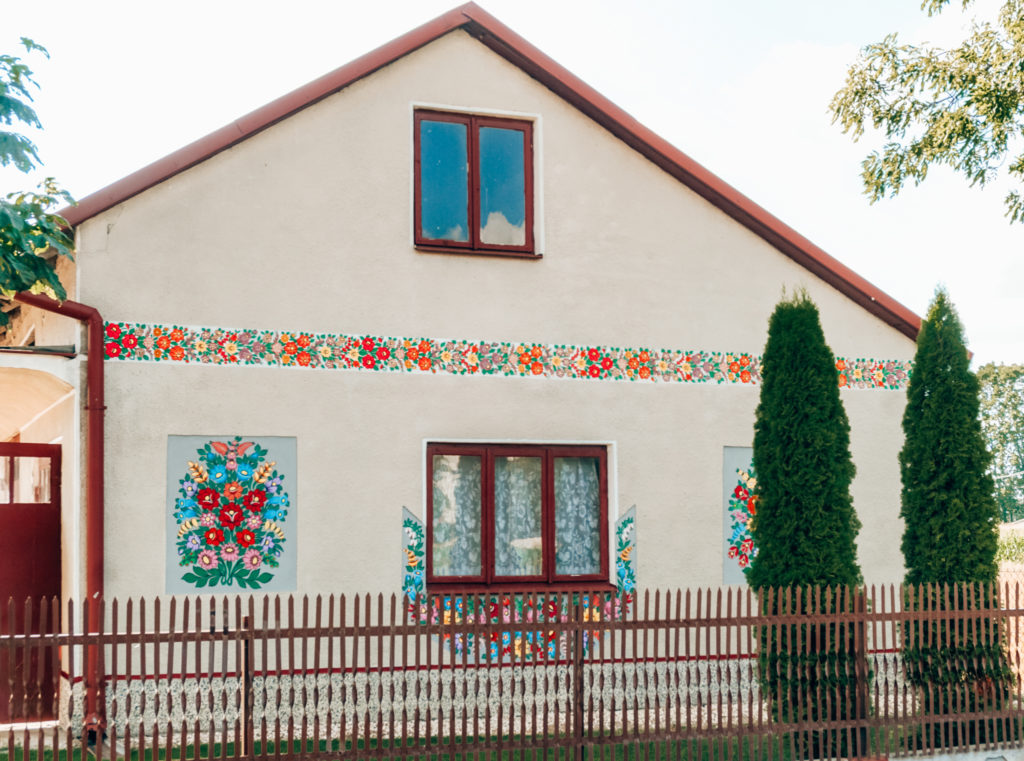 So it's good to remember it isn't all an open-air museum.
Except for two houses-turned-museums, they are all private properties.
The residents are quite used to the tourists' interest though and appreciate the attention their village brings in the world. They are kind and welcoming to visitors. If you're lucky you might be even invited in for a quick tour!
Today the more talented women of Zalipie not only decorate walls, they paint flower garlands on their furniture, china, glass and around window and doors. Some of them make beautiful decorative papers hung in windows or embroider traditional costumes and tablecloths. There is no limit for their imagination and self-expression.
The cultural life of the village is centred in the House of Painters, or Dom Malarek (pictured below). You can admire painted bouquets on the walls, buy souvenirs, see women crafting the ornaments, get information concerning the tradition of decorating or even take part in workshops. There is also an interesting exhibition about the Malowana Chata competition (more about it further down!).
The House of Painters is free to visit and the opening hours are as follows:
In high season (June till September): 8 am to 4 pm, Monday through Friday and from 11 am to 4 pm on the weekends.
In low season (October till May): 8 am till 4 pm Monday to Friday (closed on weekends).
---
Felicja Curyłowa
You can't write about Zalipie without mentioning Mrs Felicja Curyłowa. She is largely credited for taking the flower fad to its current height. Although she didn't come up with the idea originally, she was a very enthusiastic posy-painter. She decorated almost every surface of her three-bedroom cottage with flowers, including plates, spoons and light bulbs. After she died in 1974, her home was turned into an open-air museum, where you can see her designs today.
Curyłowa also painted the interior of the Wierzynek restaurant in Krakow and the dining room on the MS Batory cruise ship.
If you'd like to visit the Felicja Curyłowa Household you can do that from Tuesday to Sunday, the Museum is closed on Mondays. The sightseeing begins every hour on the hour. Here are the opening times:
October – April: 9am to 5pm / May – September: 10 am to 6 pm
The adult ticket costs 8.00 PLN (5.00 PLN concession or 16.00 PLN a family ticket)
---
The Malowana Chata competition
Almost every year since 1948, the village has held a Painted Cottage Competition, or Malowana Chata. It's the longest-running folk art competition in Poland! (The 56th edition took place in 2019). It encourages the villagers to cultivate the tradition of covering houses with floral designs and prevent its disappearance.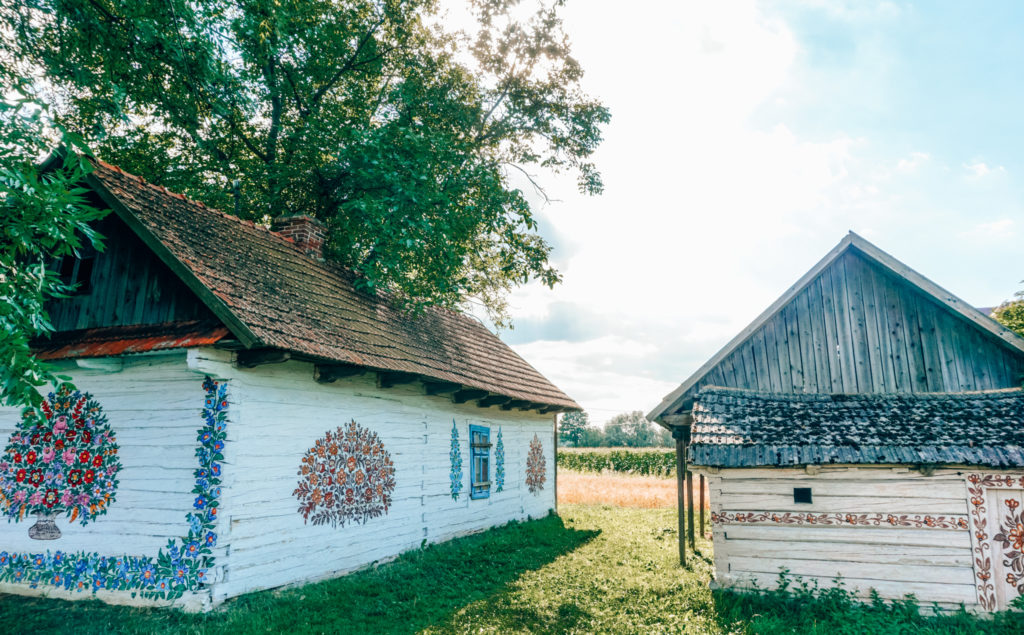 Every spring, right after Corpus Christi in June, people of Zalipie and surrounding villages create new art and enter their houses and farms in the contest. The winners are announced on Sunday and the celebrations take place at a village picnic, called "Zalipiański festyn".
---
Getting to Zalipie
Zalipie is essentially in the middle of nowhere, so getting there might sound tricky. But that makes it even more exciting 😉
The best way is to get there is by car, by simply following your GPS navigation. From Kraków the journey would take roughly 1 h 40 minutes. If you're coming from Tarnów, it would take you more or less 40 minutes. Our road trip included Sandomierz (another lovely town I would recommend for a visit!), so we left from there and it took 1h 30 minutes.
You can also take a bus to Zalipie. There are a few minibusses running daily from Tarnów, the ticket costs 5-6 PLN. If you're coming from Kraków, a good option would be taking a train to Tarnów and then jumping a bus to Zalipie.
---
Zalipie is a beautifully bright village, full of colour and charm. It is the perfect location for anybody looking for a unique and memorable day trip. And let's not forget – it's so Instagrammable! 😉 I hope this little piece inspired you to visit it someday!
Let me know in the comments if you liked it! ✌️
---
Love,
Jo xx