EUROPE
Bratislava – the underrated European gem
I have to admit that I love recommending places that are less known, not yet so popular or off the beaten track. And Bratislava, with its charming streets, a castle on the hill and a small-town feeling, is definitely one of them!
I visited Bratislava in 2016 and it was only a short stop on the way to Budapest. And even though I spent only a couple of hours there, it was just enough to see the most important things in the city and be completely infatuated with it. Therefore I can recommend Bratislava as a perfect city break, a weekend trip or a quick stop on the way to another European destination.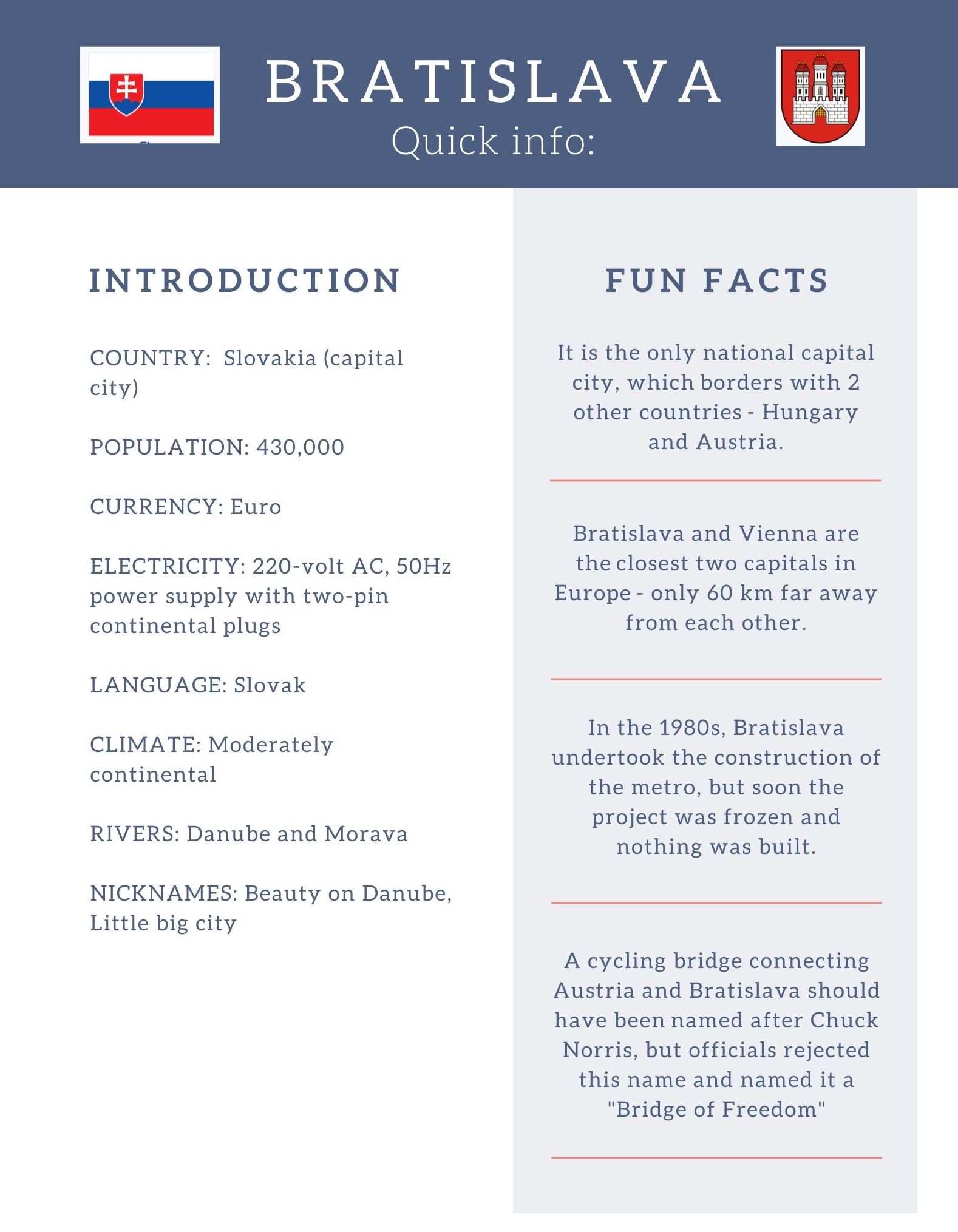 ---
---
It was established at the crossroads between the Amber Road, which connected the Baltic Sea to the Mediterranean, and the Danube waterway. Bratislava has been inhabited by the Celts, Romans and Germanic and Slavic tribes. It was even the capital of the Kingdom of Hungary in the 16th and 17th centuries.
It's been Slovakia's capital city since the country's independence in 1993.
A medieval old town, baroque palaces of the Hungarian nobles, the Renaissance castle and the recent additions of trendy cafes and boutiques created a perfect destination for day-trippers.
---
Take a walk around THE OLD TOWN
The Old Town is Bratislava's historic centre and the prettiest area, filled with narrow streets, baroque architecture, and fairytale churches and palaces.
One of the best things to do is to simply walk around and admire the surroundings. It takes roughly 10 minutes to circle it, so without rushing you can enjoy the sights, shop for souvenirs and even sit and grab a coffee in one of many lovely cafes.
Hlavné Námestie
is the Main Square with colourful houses surrounding it. It's the epicentre of social life in Bratislava, especially in the summer.
You can admire the architectural beauty in almost every direction, like the Old Town Hall (Stará Radnica), a complex of pastel-coloured 14th- and 15th-century Gothic houses, and Palugyayov Palác, a neo-baroque former palace.
In the middle stands the beautiful Roland's Fountain, put up in 1572 as a public water supply.
According to a legend, the statue of a knight (standing on the top of a 10-metre high column), can be seen bowing every New Year's Eve. But that's visible only to the most good-hearted Bratislavans 😉
The Old Town Hall
It is home to the Bratislava City Museum, the oldest museum in Slovakia. It displays the city's history, armour and torture devices. And if you fancy, you can climb up the narrow stairs leading up the 45-metre-high tower. You will be rewarded with beautiful panoramic views of the Old Town!
Adult entrance fee is €5 (concession €2.5). More info on the Museum's official website.
You can go into the Town Hall's courtyard for free and admire these lovely arches.
St Michael's Gate
You can enter the Old Town through the only still standing medieval gate of the city fortifications, St Michael's Gate (Michalská brána a veža). It is 51-metres high, with a statue of the archangel Michael slaying a dragon on top. It also contains a military museum.
On the street that passes through the gate you will find the so-called "zero kilometre" (or "zero point") plate, listing the distances of 29 world capitals from Bratislava.
You can also climb the tower to get the views of the city's streets. Entrance is via the Museum of Arms (look for the replica cannon at ground level).
The Museum and Tower are open as follows:
Tuesday – Friday 10 am – 5 pm / Saturday – Sunday 11 am – 6 pm.
You can visit the Museum's website for more information.
Adult ticket costs €5 (concession €3, other discounts available).
Primate's Palace
A few steps from the Main Square, on the Primate Square (Primacialne namestie), you can find a lovely pink-shaded neoclassical Primate's Palace (Primaciálny palác). When you walk in, you will see huge tall pillars in a hallway, leading you to a small courtyard with a fountain and a statue of St George. The statue pictures him slaying a three-headed dragon.
In this palace, Napoleon signed a peace treaty 'The Peace of Pressburg' in 1805. Nowadays, it serves as the seat of the Mayor of Bratislava.
The palace is open to visitors and you can see, among others, the famous Hall of Mirrors and a collection of 17th century English Gobelins.
Opening hours are 10 am to 5 pm, Tuesday to Sunday and the tickets cost €3.
---
Take photos with the QUIRKY STATUES
Around Bratislava's Old Town you can find a few lovely statues and sculptures paying homage to the city's past. And taking photos with all of them is a very popular activity among tourist 🙂
Located on the corner of the Main Square this one is of Lamár Ignác, nicknamed Schöne Náci. He was a beloved figure during World War II and years after.
At a time of trouble and depression, Ignác inspired happiness in people around the city through his cheerful manner and joyful greetings.
Another one is Man at Work (Čumil the Peeper), a bronze sculpture of a communist-era worker clambering out of a manhole.
You can find him on the corner of Panská and Rybárska Brána, just a few steps from the main square.
Napoleon's Army Soldier – another popular photo spot, located in the main square.
---
Admire the cutest BLUE CHURCH
This church is a little different from the others and looks like something out of the fairytales. It's officially known as the Church of St Elizabeth of Hungary but, for obvious reasons, it's commonly referred to as simply "the Blue Church" (Modrý kostolík).
Both the interior and exterior of the church are painted in shades of pale blue and beautifully decorated with mosaics. Even the roof is tiled with blue-glazed ceramics.
Built in the early 20th century in the Art Nouveau style, it is smaller than most European churches. It takes between 10 to 15 minutes to walk here from the old town.
---
Walk up the hill to THE BRATISLAVA CASTLE
It's easy to reach by foot just a few minutes to the west of the Old Town.
You walk up the hill through these cute cobblestone streets.
Inside the grounds, you can walk around the gardens, explore the on-site history museum and look out upon the landscapes surrounding the city. On a clear day you can see Slovakia, Austria and Hungary!
Views from the Bratislava Castle:
The current building is a boxy four-towered rectangle with the inner courtyard, that feels a little bit empty and underwhelming. It is a 1950s reconstruction of Emperor Sigismund's 15th-century castle, which burnt down in 1811.
The castle houses two museums: the Slovak Historical Museum (Historické Múzeum) and the Music Museum (Hudobné múzeum), though many chambers feel empty and underutilised.
The castle's oldest original feature is the 13th-century Crown Tower, which you can also climb for bird's-eye views. The 47-metre-high tower used to hold the royal coronation jewels. Another highlight is the late-baroque Assumption of the Virgin Mary painting by Anton Schmidt in the Music Hall.
Without a ticket, you can wander the well-kept baroque gardens behind the castle.
Otherwise, an adult ticket to go inside costs €10 (concession €4).
Opening hours:
In the winter season, from November 1 to March 31:
open daily except Mondays from 9 am to 5 pm, last entry at 4 pm.
In the summer season, from April 1 to October 31:
open daily except Mondays from 10 am to 6 pm, last entry at 5 pm.
---
I spent only a couple of hours in Bratislava, but as you can see, I was able to fit quite a lot in! So I would definitely recommend it for a quick or long visit, as it still seems a bit underrated. Further down I added some other information you can find useful when planning your visit!
If you have any questions let me know ☺️
---
Love,
Jo xx
---
Useful INFO about Bratislava
When to visit
Bratislava has a temperate continental climate with warm summers and cold winters. So the best times to visit it are from mid-April to mid-October and just before Christmas (for the markets).
May is relatively dry and it's also the blossom season, when the fruit trees are in full bloom.
Summer season is the peak season for visitors, because of the hot weather.
Therefore if you'd like to avoid the crowds, October is a good time to come here as well. Plus you can then admire beautifully changing autumn foliage.
Traditional Slovak food to try
Bryndzové halušky – potato dumplings with sheep cheese and bacon.
Zemiakové placky – potato pancakes.
Lokše – potato flatbread.
Kapustnica – cabbage soup and Gulášová polievka – goulash soup (and other ones, like chicken noodle, sauerkraut and bean soup).
Vyprážaný syr – fried cheese with chips and tartar sauce.
Parené buchty – sweet steamed bun dumplings filled with jam, sweetened poppy seeds, cheese or chocolate.
Šišky – fried doughnuts.
Wifi
You can use the free Wi-Fi in the city centre by connecting to "VisitBratislava" network in 13 hotspot locations. Simply register your device by agreeing to the Terms of Use of the Public Wi-Fi network and surf for free!
Languages
The official language is Slovak, although English and German are also often used when interacting with foreigners. Older people might sometimes speak Hungarian, Russian or German.
Safety & Security
Bratislava is a safe place to travel, but you have to take some common precautions.
There is a risk of petty crime, as pickpockets operate around the main tourist areas, targeting the foreigners. They operate around the stations, bars, cafes and during the Christmas markets. So pay the attention to your personal stuff and valuables, do not leave them inside the parked car.
Also, always ask for a printed receipt in restaurants to avoid being overcharged.
Getting to the city centre from Bratislava Airport
Milan Rastislav Stefanik Airport is located 10 km from Bratislava city centre and you can get there in 20–30 minutes, depending on the mode of transport.
You can take the bus 61 to the main railway station. This bus departs roughly every 15 minutes and it takes 30 minutes to get to the station. From there, you can walk to the city centre for 15 minutes or take bus 93 (exit Hodžovo námestie) or tram 1 (exit Námestie SNP). Bus tickets are available from ticket machines at bus stops or in kiosks. The tickets which cost around €1.20 (€0.60 concession) must be validated in the buses.
It might be easier to just get a taxi straight from the airport, but they are quite expensive – do not forget to ask about the price in advance. It ranges on average from €15 to €20, depending on the driver's rate.
You can also use transport apps like HOPIN or UBER.
Transport around the city
Though Bratislava is a small city and very walkable, if you're staying for more than 1 day you might want to use public transport as well.
You can travel on trams, buses or trolley-buses. Tickets for public transport are valid for a certain time (minimum 15 minutes and maximum 7 days) and are available from ticket machines or kiosks. They must be validated once inside the tram/bus. You can learn more about the tickets here.
Taxis are widely available and it is usually cheaper to call one over the phone than take one from the stand or hail it on the street. The minimum charge for a short-distance trip is around €5.
It is also convenient and useful to order via UBER, HOPIN or BOLT apps.
Bratislava CARD
If you're planning to stay in Bratislava for more than one day, it might be useful to check out the Bratislava CARD. It gives you unlimited travel on public transport, a guided tour in the Old Town, discounts on admission fees to 16 museums and galleries in Bratislava and the Bratislava region, as well as other attractions and tours. You can buy it from any of the tourist information centres.
One day pass costs €20, two days €25 and three days €28.
Parking
You will find many underground and outdoor parking lots in the city centre. Although parking on the side of the street is permitted, you have to park in a designated zone and buy a parking ticket in a machine. You have to pay for parking on weekdays from 8:00 am to 6 pm. There are more than 50 parking ticket machines with credit card payment option in operation in the centre.
---