Guatemala is Central America's hidden gem. With its stunning landscapes, active volcanoes, Mayan sites and rich culture it's an amazing destination to visit. But to be honest, I hadn't really thought about Guatemala when I was planning my travels… And it turned out to be one of my favourite places I've been to. I couldn't get enough of the colourful buildings, seeing people in their traditional local clothes and eating delicious food. And I even climbed a volcano!
---
But first things first: some basic information about Guatemala
✔️ Located south of Mexico it is the third largest country in Central America.
✔️ Capital city is Guatemala City.
✔️ The official language is Spanish, which is spoken by 60% of the local population. There are 23 indigenous languages recognised.
✔️ Currency is the Guatemalan Quetzal (GTQ), US dollars and credit/debit card are accepted in tourist areas.
✔️ Climate is generally mild and divided into two seasons: wet and dry.
✔️ The busiest time for tourism is during the dry season, that is between December and May.
✔️ The best ways of getting around are shuttle buses, taxis or private car with a driver. For public transport you'll have to rely on the local or 'chicken' buses – they are run-down, but cheap and offer a chance to experience a true Guatemalan lifestyle.
✔️ Despite having a bad reputation for crime, Guatemala is generally safe to visit. While crimes can happen to travellers, there's no cause for panic, you just have to take smart precautions. For instance, never travel after dark, keep your valuables hidden, ask locals for advice and monitor the ever-changing situation in the country.
✔️ Safety precautions apply for incidents concerning nature as well. For example, Volcán de Fuego near Antigua erupted in June and November 2018, killing at least 190 people. It will probably erupt again, so stay updated with the news.
---
So what should you see and do in Guatemala? Here's the list of my favourites!
---
Antigua Guatemala
This vibrant format colonial town is one of the most popular destinations in Guatemala. It was once the country's capital, but after a series of earthquakes and volcano eruptions, the officials left town. Its Baroque architecture, cobblestone streets with colourful houses, cute cafés, rich culture and traditions are incredibly inviting.
The feel of the town is completely laid-back and easy. You find yourself simply wandering around the picturesque streets, admiring every colourful corner and buying fruit and sweet treats from street vendors. With this vibe, it's not a surprise that many people studying Spanish choose to go to language schools in Antigua Guatemala!
The city's architectural heritage is only beat by its colourfully patterned traditional textiles. They are made using natural dyeing techniques and sold at markets across the city.
They are also worn by the locals and make you feel like you travelled back in time. Because seeing people wearing traditional clothing on the street is not your regular sight anymore!
Arco de Santa Catalina is the symbol of Antigua.
This bright yellow, 17th-century arch back in the day connected the Santa Catalina convent to a neighbouring school. This way the nuns from the convent were able to pass between the two without being noticed.
Fun fact: The clock on top of the arch was only added in the 1890's! It is a Lamy & Lacroix clock from France and needs to be wound every three days.
And on a clear day you can see Agua Volcano in the background!
Speaking of the volcanoes, the city is surrounded by three of them: Agua, Fuego and Acatenango Volcano. So imagine the spectacular backdrop! On a good sunny day, you can see them clearly in the background, towering over the streets of Antigua.
During my stay there it was quite cloudy every day, and unfortunately I couldn't get a good view of the volcanoes… so I decided to climb one instead! 😉 You can read about it in the next section.
Actually, one of the reasons people come here is to climb the Acatenango Volcano. It is a dormant volcano, so you can camp on it overnight and watch the spectacular eruptions of the nearby active Volcano Fuego!
To get the picture-perfect views of the city you must head to the Cerro de la Cruz (Hill of the Cross).
The walk up from the city to the viewpoint takes around 15-20 minutes and it's well worth it! You have sweeping views over the whole city and Volcán Agua behind it. The cross is devoted to the city's patron saint – Saint James (Santiago Apóstol).
But be careful, as this spot was infamous for muggings in the past, so it's now being patrolled by police quite often.
The area around Antigua Guatemala is also known for its quality coffee. The privileged climate, altitude, volcanic earth and traditions of growing coffee beans make Antigua's coffee one of the best in the world.
And I did try it at Café Condesa and can confirm: so good. Thumbs up! 👍🏻
As you can see Antigua Guatemala is a city with a lot to offer! If you have more time to spare, you can also visit the Chocolate Museum, tour a coffee farm (for example De La Gente), go on a walking food tour or take a cooking class.
And something you might not know about: there is also a macadamia nut farm nearby and you can visit it as well!
More information on the Valhalla Macadamia Farm & Restaurant website.
---
Pacaya Volcano
Located 30 km to the southwest of Guatemala City and 46 km from Antigua Guatemala, Volcán de Pacaya is one of the youngest peaks and also the most recommendable, because of its rather easy hiking level.
It first erupted over 23,000 years ago and is currently one of the most lively volcanos in Central America. And it's quite a spectacular one too, spewing plumes of smoke and orange lava from time to time. Pacaya stands a whopping 2,552 meters and the trek has an elevation gain of around 457 metres.
The hike up Pacaya Volcano is not dangerous and the level of difficulty is described as 'medium'. It usually takes up to 2 hours to reach the top and for most of the time you're walking on a rocky path, lined with trees.
The only tricky bit for me was the climb down, or in my case, the awkward slide/run down the slope to the base of the crater. It was quite steep and the rocks were unstable! But it all adds up to the excitement of walking on a volcano 😉
To get the sheer scale of it: look how small the people in the right bottom corner are! 👆🏻
But the most exciting part was toasting marshmallows in one of the vents!
And on a personal note: it was my first time ever eating toasted marshmallows… I know! And I did that on a volcano. What a treat 🙂
You can also visit the Lava Store and buy some jewellery and crafts made by local artisans.
Quick tip: If you need a little help with the hike, you can buy a walking stick at the entrance. But if you think it still might be too hard for you to climb on your own, you can rent a horse with a handler.
---
Tikal
This is one of Guatemala's absolute must-sees. Sitting in the middle of the lush jungle these majestic temples are one of the most impressive archaeological sites of the pre-Columbian Maya civilisation in the world.
Tikal flourished between 200-900 AD and was larger than Copán in Honduras and Palenque in Chiapas, Mexico.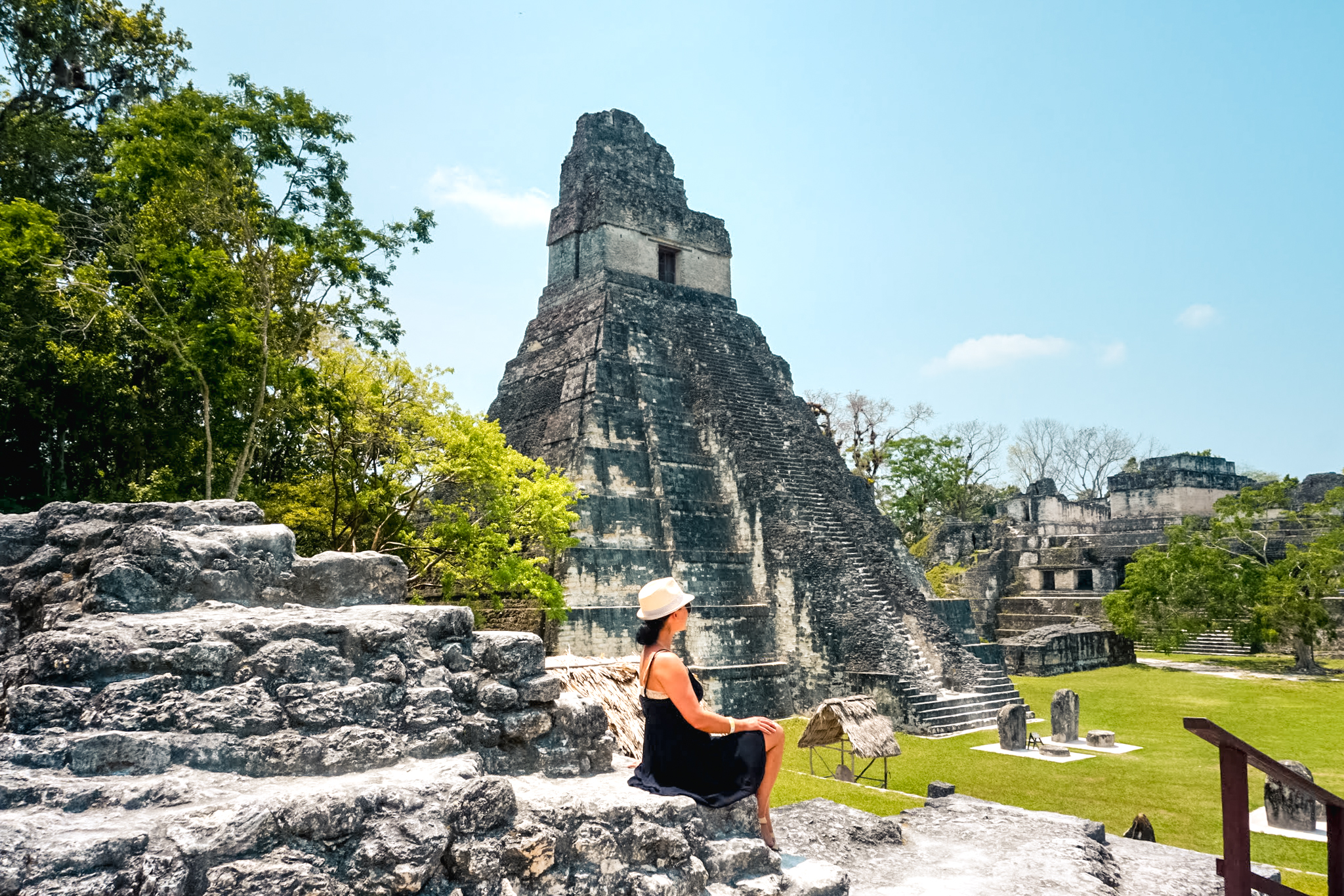 The site itself is surrounded by the Tikal National Park (Parque Nacional Tikal), a protected area of some 576 km2 and in 1979 that whole complex was declared a UNESCO World Heritage Site.
The scale of the place is remarkable. You pass under the thick canopy of the rainforest and might even be lucky enough to see howler monkeys, macaws, coatis and agoutis!
The most impressive place is the central section with five main temples, reaching almost 70-metres in height. And the Temple of the Great Jaguar (or Temple I) is a standout! It is the first pyramid you walk past when entering the Gran Plaza.
You are free to walk on some of the ruins too and be sure to go up to the small viewing terrace on the Templo de Las Máscaras (Temple II). The views over the main plaza are stunning and definitely my favourite!
Fun fact: The whole area is so impressive that it was used as a filming location in Star Wars IV!
And if you venture further into the jungle you will find thousands of other, smaller structures. They are all scattered around, covered in vines and giant roots.
Getting there:
To experience Tikal in peace, I recommend visiting as early as possible. Therefore the best way is to stay in a nearby Isla de Flores and then Tikal is a 90-minute drive away. You can take a bus, a shuttle or a tour to visit the ruins and I would recommend the last option. Also, you can walk around the site yourself or hire a guide, that's completely up to you!
Sunrise tours depart from 4am and you can arrive in Tikal just as the gates open at 6am. We arrived at 8am and it was already quite hot and humid! And when we were leaving at around 12noon-1pm the heat was getting unbearable.
Tikal National Park is open daily for visits from 6:00am to 5:00pm.
Adult tickets for foreigners cost 150 GTQ (about $20 USD).
---
Isla de Flores
The charming Flores is situated on an island in the middle of the Lake Petén Itzá, the third biggest lake in Guatemala. It's connected by a short causeway to the mainland and its sister town Santa Elena.
Tourists come to spend the night in Flores mainly to visit the nearby Tikal National Park. But this picturesque town is worthy a little bit of attention itself!
This cluster of cobbled streets and colourful houses offers a peaceful and old-fashioned atmosphere.
The best thing to do here is to simply take a walk around the island, visit a local restaurant or a café and enjoy the slow pace of the town. It takes roughly 20-30 minutes to circle it, so you can see: it is pretty small!
---
Lake Atitlán
Surrounded by soaring volcanic mountains Lago de Atitlán is one of the most beautiful lakes in Guatemala, and maybe even in the world. It offers endless views, shimmering blue water, amazing coffee and incredible hospitality.
The lake is situated about 1,500 meters above sea level, it's 18 km long and 8 km wide with the deepest point of 341 metres. That makes it the deepest lake in Central America!
It was formed 84,000 years ago following a massive volcanic eruption. On a clear day, you can enjoy a magnificent view of the surrounding volcanoes: Toliman, San Pedro and Atitlán.
The lake is surrounded by a series of Mayan villages, each with its own characteristics.
To travel from one village to another you have to take a small boat, known as "lancha". They are usually very cheap and you pay the drivers in cash.
Because my time in Guatemala was limited, I took a one day tour from Antigua Guatemala and visited 3 villages. Every village has an individual appeal, its own Mayan language and traditional dresses.
Most villages are so small you can easily walk around on foot. But there are plenty of tuk-tuks around for when you're feeling tired, lazy or can't be bothered with an uphill hike.
Because you have to keep in mind that you're in the mountains so the streets tend to be quite steep!
We started in Atitlan's largest town, Panajachel and from there took a boat across the lake. It is the most touristy town, as it serves as the region's main transport hub and a getaway to exploring the lake.
Firstly I visited San Juan La Laguna.
One of the more authentic villages at the lake, it's known for weaving and dyeing techniques, local art and the use of medicinal plants.
To get a great insight into the Mayan culture we visited Casa Flor Ixcaco – a collective run entirely by women, to protect the cultural heritage and support livelihood of Guatemalan women through arts and crafts.
They use a method called backstrap weaving. It takes about 15 hours to create a spool of cotton. Since two are needed, this process can take even 30 hours.
It takes about 12 hours for the cotton to absorb the colour from the plant. Once the cotton is dyed, it takes another day for the colour to dry.
The artisan will decide what patterns she wants to create and will choose the appropriate number of rods to support it. The greater the number of rods, the more complex the design.
Traditionally, Mayan women grow their own organic cotton, dye the thread using natural colours like beetroot, berries, roots and carrots, then use the thread to make clothing, blankets, and any other sort of textiles. It can take one month to weave a 1.8-metre long scarf from start to finish!
It was really interesting to learn about the importance of corn in the Mayan culture and paintings as well.
Next stop was San Pedro La Laguna.
This is one of the most visited lakeside villages. Due to cheap accommodation prices, it has a big backpacker reputation and a global social scene.
There are heaps of restaurants, bars and travel agencies offering plenty of activities to keep you busy. It's also a great place to come if you want to learn Spanish, as you can sign up to a homestay programme!
Here you learn more about the indigenous Maya Tz'utujil community, you can see them around the markets, dressed in colourful indigenous outfits.
You can get a quick insight into the coffee growing process as well, as it's the region's main source of income. The coffee is being picked on the volcano's slopes and spread out to dry on wide platforms at the beginning of the dry season.
In addition go ahead and treat yourself to a delicious cuppa in one of many cafés. And I have to say – it was one of the best coffees I've ever had!
And for lovely views over the San Pedro and the lake head over to the Primera Iglesia Bautista (First Baptist Church).
The last village I visited was Santiago Atitlán.
It's the cultural destination on Lake Atitlan. It was here where the first inhabitants of the lake settled and the majority of the residents are indigenous Mayans.
You can visit the local market and try some traditional food, fresh off the food cart.
The people are known here as atitecos and proudly live a traditional Tz'utujil Maya lifestyle. Women wear purple-striped skirts and huipiles (blouses) embroidered with coloured birds and flowers, while older men wear lavender or maroon striped embroidered pants.
Local women wear a tocoyal – a traditional embroidered belt, usually around 20 (!) metres long and wrapped around the head, so it looks like a very thick brimmed hat with no crown.
But this beautiful village has seen some of the worst events of the Guatemalan civil war. It was here where peaceful protesters were shot and foreign priests were executed.
A place you can't miss here is the Iglesia Parroquial Santiago Apóstol (Saint James The Apostle Parish Church). This is where the beloved by the local people missionary priest, Father Stanley Francis Rother, was murdered by ultrarightists in the parish rectory next door in 1981.
---
For the locals, the lake is a mystical site. They say that Lake Atitlán is the "bellybutton of the world," with unique energy running through it. And whether you feel the vibes or not, Lake Atitlán feels like a special place indeed.
---
In conclusion, Guatemala is a fascinating and incredibly charming country. The culture is rich, the food and coffee delicious, and the landscape just gorgeous. Hopefully, by reading this you got a small taste of the country and will put Guatemala on your travel list!
---
Love,
Jo xx