ASIA
Destination Boracay – your small beach paradise
This image is probably close to what you would imagine when thinking about an island paradise: the sun, white-sand beaches, crystal blue waters and palm trees. Welcome to Boracay!
Boracay is one of over 7000 islands in the Philippines. It's located about 315 km south of Manila and just 2 km off the northwest tip of Panay Island, in the Visayas region.
This tiny piece of land is only 7 km long and 1km wide, but it packs in all the activities you might look for when booking a holiday. Stand-up paddleboarding, snorkelling, scuba diving, parasailing, cliff jumping, hiking… you name it. There's something for everyone.
While the powder white sand and turquoise waters are a draw for most, it's the fun spirit of Boracay that makes people come here. Or it used to!
The effects of overtourism were seen all around. Beach fronts were taken over by unregulated commercial establishments and beaches saw the rise of peddlers. The water became dangerously polluted from mismanagement of sewerage and disposal systems. The island had enough.
That 'rehabilitation' period was used to restore Boracay to its former glory. The island has since reopened with a limit on the number of daily visitors and other restrictions.
(If you would like to know what the new rules are, I will list all the do's and don'ts at the end of the post).
And while the partying the night away is not on the cards anymore, Boracay is still one of the best places to visit in the Philippines. In fact, many people might like it even better this way!
---
Boracay Beaches
Picking the right beach seems like a weird idea, but it can make or break your holidays! Do you prefer a busy one, full of cafes and restaurants? Or would you rather sit on a remote beach, more peaceful and not too crowded? How about some water sports? Boracay has a few options for you.
Most people might be familiar with only one beach in Boracay – White Beach. And while it's the longest and most popular, it's not the only strip of sand here! There are 17 of them around the island and some are real hidden gems. I will give you 4 of the best ones (in my humble opinion 😉 )
1. White Beach
This dreamy, 4 km long, postcard-perfect stretch of sand is the centre of the action in Boracay. Lined with hotels, restaurants, bars and dive shops, the beach path is typically packed with tourists. The azure water is full of romantic paraws – double outrigger sailboats native to this region of the Philippines, and colourful parasails fill the sky on the horizon.
White Beach is divided into three "stations".
Station 1
It has the widest beachfront and is popular with standup paddleboarders.
Willy's Rock (known also as Our Lady of Lourdes Grotto), a rocky outcrop that forms a tidal island, is somewhat of an iconic location on Boracay.
It's located around 100 metres away from the shore and easily accessible. Although during high tide you might be waist-deep in water 😉 The name comes from the nearby Willy's Beach Club Hotel. Willy's Rock is also one of the best sites to catch the famous Boracay sunset!
Station 2
It is the commercial and geographical centre of White Beach. This is the centre of it all for shopping, eating and drinking. That makes it also the most crowded, and the area the noisiest.
Station 3
Is the southernmost section and much quieter than Station 2. As it is the least developed, the prices here are the lowest and accommodation the most affordable.
This is the meetup point for most island hopping and paraws tours. So head here if you're keen on doing those!
2. Puka Beach
Puka is the northernmost beach on Boracay Island that stretches for roughly 800 metres. You have the ocean on one side and a cliff and forest on the other, so the atmosphere is really laid-back. It offers a different kind of beauty: the water is clear and unpolluted and the sand is lovely white. And it's definitely much less crowded than some other beaches, so you have enough space to find a nice cosy spot for yourself.
The sand is not as powdery and more coarse than that of White Beach. It's due to the coral mixed in with it. You can also find some lovely puka shells here (hence the name 😉 )
The water tends to be a little rougher here and it gets deep quite quickly as you go in.
The only minor downside of Puka Beach is the lack of proper shade. There is a lot of palm trees at the back of the beach, so you can escape the sun there. But if you'd like to stay closer to the water, you'd have to rent a lounge chair with an umbrella.
Getting to Puka Beach
Most people come here on a sailboat or a bangka – a double-outrigger dugout canoe, as a part of a one-day tour around the island.
If you arrive here via the main road, you are greeted by many stalls selling clothes, jewellery and souvenirs.
There are only a few seafood restaurants and drink stalls, where you can eat deliciously cooked seafood and drink fresh coconuts. If you fancy a cold drink or an ice cream, you get it from street vendors walking along the shore.
Though the best option is to prepare your own food and drinks and enjoy a picnic on the beach. (But be a good tourist and take the rubbish back with you!)
3. Diniwid Beach
This 200-metre beach feels seemingly enclosed and isolated, as it offers a pleasant and tranquil atmosphere compared to its busier neighbour. It is located in the northwest part of Boracay, just up north from White Beach.
The beauty of Diniwid Beach leaps out at those rounding the corner for the first time. With hills, cliffs and rocks surrounding it, this beach is entirely different from any other on the island.
If you don't like to walk you can grab a tricycle from D'Mall in Station 2. The ride takes around 20 minutes and costs PHP 100.
Diniwid Beach is the perfect choice for travellers who want a serene environment and privacy. It emanates the feeling of exclusivity. Therefore you can find more upscale hotels, resorts and beachfront villas here.
Several beach bars rent out lounge chairs, so you can enjoy some easy beach time here.
4. Bulabog Beach
On the east side of Boracay, across from White Beach, lays Bulabog Beach, the must-visit spot for adrenaline junkies and adventurous travellers. It's 2,5 kilometres long and thanks to the large waves and strong winds it's considered to be Asia's top kitesurfing destination. It is not advisable for swimming due to the presence of sea urchins. So you can either try your skills at water sports or grab a drink and watch the surfers trying to master the waves.
There are a few tour operators and equipment rentals on the beach. They are also offering kite-surfing lessons, even for beginners. Apart from kites, you can have a go at windsurfing, parasailing and skimboarding – like surfing but on smaller, fin-less boards.
Most importantly, Bulabog Beach is most known for hosting the annual Boracay International Funboard Cup every January or February. The cup is one of the largest kitesurfing and windsurfing races in Asia.
Fun tip: at the northern end of the beach you can find a cemented road leading to Mt. Luho Viewpoint (take a tricycle for PHP 120 per person, or walk for 20mins). It offers a panoramic view of Bulabog Beach, Boracay Island, and nearby islands such as Carabao and Panay.
---
Boracay Sunset
I love sunsets. Therefore yes, I decided that the sunset on Boracay is so stunning, that it deserves its own section. Masses of people gather around on every beach to watch this great spectacle.
And the atmosphere is so lively!
With sailboats still on the water, you watch these triangles moving around, on a gorgeous, constantly changing backdrop. Orange, yellow, red, pink and purple hues are insanely pretty.
Quick sunset tip: don't leave too early! The most important time is just a few minutes after the sun disappears behind the horizon. This is when you can experience the darker, more saturated colours.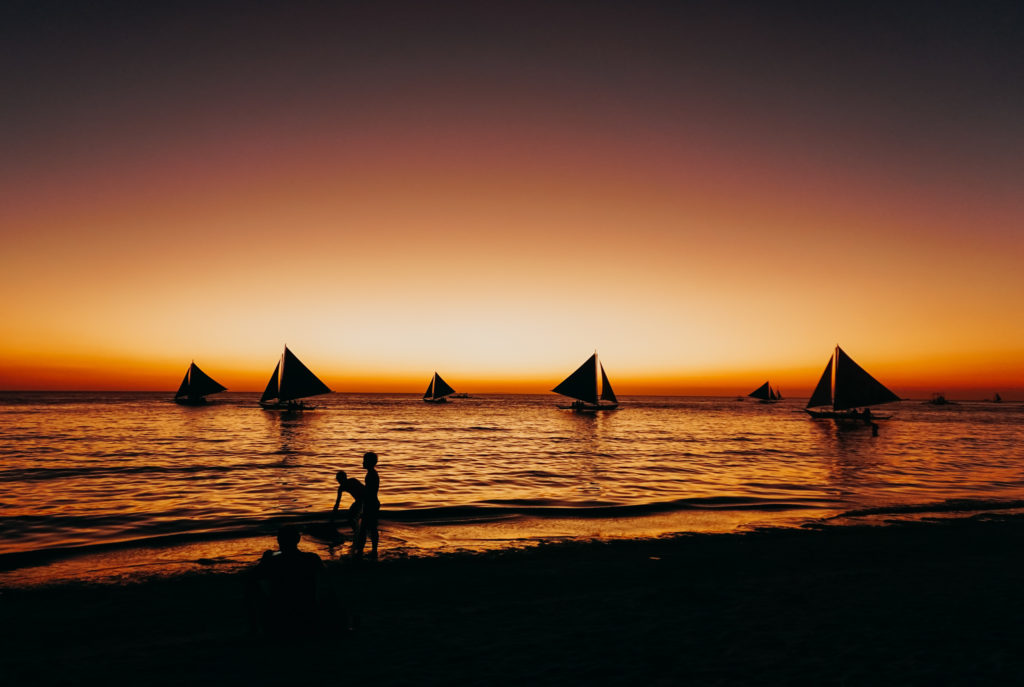 How To Get To Boracay
The fastest and the most accessible is getting here by plane. The flights are frequently coming from different parts of the Philippines and even several countries outside of it. Neither airport is actually on Boracay, so once you land you'll need to catch a ferry from Caticlan Jetty Port. All flights arrive at one of two airports:
✈️ Caticlan
A smaller, regional airport that sits adjacent to the island. It's closer, only 15-30 minutes away, but fares are way more expensive than Kalibo. Upon arrival, take a tricycle waiting outside the airport and head to the Caticlan Jetty Port. The fare costs P50 to P75 per person, depending on the number of passengers. At the port, you have to register in a logbook, pay the fees (terminal fee P100, environmental fee P75; and the boat fare P25-30 or oyster ferry P100 – a bigger boat) and go through a security check. Then you take the boat to Cagban Jetty Port in Boracay Island and a tricycle to your hotel.
✈️ Kalibo
The bigger, more built-up international hub. It's also farther, requiring around 2 hours of travel time to the jetty, but fares to Kalibo are much cheaper. Upon arrival, there are many operators offering a package transportation deal of van and boat far. Be sure to check whether it's cost-effective or if it will be more expensive for you. Your land travel options to Caticlan include riding a tourist bus or van. Once at the Caticlan Jetty Port, you'll just have to pay for the terminal and environmental fees.
Before travelling to Boracay, make sure you have a printed voucher from your accredited resorts and hotels. You will be denied entry to the island if you don't hold a voucher from your resort or hotel. It is part of the new rules that the local government and tourism office is implementing since Boracay opened to the public after the rehabilitation program in 2018.
When To Go
You can enjoy Boracay all year round, as the average high temperature is approximately 30°C, while average lows are at around 25°C. Quite pleasant right?
But the best time to visit is during the dry and summer season, that is November to May. The months of February to May are the driest, which means there's very little chance that unexpected showers would ruin your itinerary. However, it is also considered high season (peaking during Holy Week), so prepare for big crowds and higher prices.
If you don't want to share Boracay with too many tourists, November to January are also good options. Of course, you'd have to avoid the usually busy Christmas and New Year period.
Is Boracay safe?
Yes, Boracay is generally safe. Scams are not as widespread as in other beach destinations in Southeast Asia, but like many touristy destinations, you need to beware of small, petty crimes. For example, pickpockets. So it's best to keep an eye on your belongings at all times. And there might be a couple of overcharging practices too, but nothing serious.
"New" Boracay Rules
Since the re-opening of Boracay in late 2018, more than a few things have changed and new rules need to be followed.
* Click here for the full list of accredited hotels.
---
In addition to crystal clear turquoise waters, palm trees swaying in the wind and seemingly endless stretches of soft, white-sand beaches, Boracay offers a uniquely laid-back way of life. So whether you're a budget backpacker or a luxury traveller, solo or on a honeymoon, young or old, with friends or with family, you'll find something to fall in love with. Plus, the magnificent sunsets are a bonus treat to the senses 🧡
---
Love,
Jo xx