EUROPE
A quick guide to Lisbon – the most charismatic city in Europe
Thanks to its perfect waterfront location, stunning architecture, amazing local food scene, vibrant nightlife and balmy climate Lisbon has become a go-to spot for a European city break. It's a safe and friendly city, relatively small but full of stories to tell and sights to see, so here are the top attractions you can't miss when in Lisbon!
Lisbon is located in the western Iberian Peninsula, at the mouth of the Tagus River. It's the westernmost capital of a mainland European country. It is also one of the oldest cities in the world and the second-oldest European capital city, after Athens. About 3 million people live in the metro area (27% of the whole country), which makes it the 10th biggest city in the European Union.
Lisbon is known as the city of the seven hills: A cidade das sete colinas. Each one has stories to tell and way up high the miradouros reveal the unique views of the city. So after a few days there, you will definitely feel it in your legs 😉
---
Alfama
A great place to start is the district of Alfama. It's a delightful maze of narrow cobbled streets and historic houses, leading up the steep hill from the Tagus River (Tejo in Portuguese) to the Castelo de São Jorge. Around every corner or steep climb is a delightful plaza, a trendy café or a panoramic viewpoint. It is the oldest neighbourhood in Lisbon (dating back to the 5th century) and still feels like a village within a city.
---
Sé Cathedral
You can start with the grand Sé Cathedral, the largest church in Lisbon. Built in 1147, it has survived many earthquakes and has been modified, renovated and restored several times, so now it's a mix of different architectural styles.
---
Miradouro de Santa Luzia
Then make your way up to the Miradouro de Santa Luzia, where you can sit on a beautiful terrace, decorated with painted tiles (azulejos) and a flower-covered pergola and admire the sweeping view over the houses, churches and Tagus River.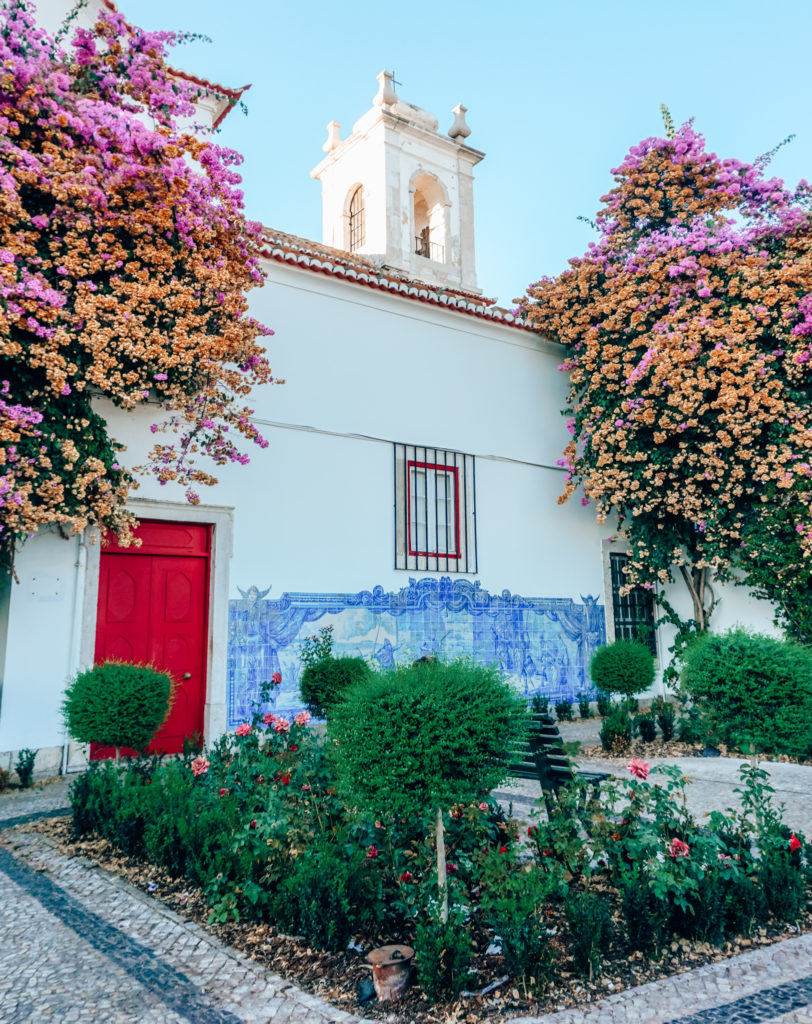 ---
Miradouro das Portas do Sol
Walk a little bit further up and there's another lovely viewpoint: Miradouro das Portas do Sol. It looks like a balcony with a café just next to it, so you can grab a drink, and some food and enjoy the views!
---
And if you'd like to find out what other beautiful viewpoints Lisbon has got to offer, check out my other post here: The Best Viewpoints in Lisbon.
---
Castle of St George
After some downtime at the miradouros, you can keep going all the way up until you reach the Castle of St George (Castelo de São Jorge). You'll have spectacular 360-degree views over Lisbon, plus the chance to wander the old Moorish castle walls and gardens.
Tickets to the Castle cost €15 for adults, with students/kids/senior discounts available.
You can find out more on the Castle's official website.
---
It was here in Alfama where fado music was born and therefore this is one of the best places to listen to it and enjoy it. You will hear the soulful sounds of fado playing in local restaurants or tiny bars almost everywhere you go.
In the Fado Museum, you can learn the history and the meaning of the music and spend some time catching the spirit of saudade (nostalgia).
Entry to the Museum costs €5 (discounts available).
---
Baixa
Baixa (or lower town) is the heart of Lisbon, made up of grand plazas, broad avenues, lovely cafes and beautiful architecture. Almost all of it has been reconstructed after an earthquake in 1755. It's one of the busiest spots in the city, somewhere you will also find yourself passing very often.
---
Rossio Square
Located in the northern part of Baixa Rossio Square (Praça do Rossio) is one of the liveliest squares in the city. It's popular both with locals and tourists, where you can sit and drink a coffee, wander around the fabulous wavy pattern stone cobbles, cool down in the water mist of two fountains and admire the beautiful architecture.
The most prominent feature of the square is a grand 27-metre-high Column of Dom Pedro IV, known as the Soldier King. His statue stands on the top of the pillar and at the base, there are 4 female figures that represent King's various qualities: Justice, Wisdom, Strength and Moderation.
Dona Maria II National Theatre, a monumental neoclassical building built in the 1840s sits on the side of the square.
And if you go further to the left you will find one of the most beautiful train station façades – Rossio Railway Station, built in 1887. If you're planning on visiting Sintra, this is where you take the train form.
Quick tip: If you'd like to taste one of Portugal's street food delicacies, try and find one of these carts, serving hot charcoal chestnuts (I found many just by Rossio Square). They are SO delicious!
---
Santa Justa Lift
Walking down south from Rossio Square you will find one of the unmissable Lisbon attractions – the Santa Justa Lift (Elevador de Santa Justa).
This 19th-century industrial-age iron lift transports you up 45 metres from the Baixa district to the Largo do Carmo and Bairro Alto. It was built in 1902 by Ponsard, a disciple of Eiffel and I'm sure you can spot the similarities 😉 It offers undisrupted 360-degree views of the city from the terrace located on the top of the tower.
The ticket to access the lift costs €6 (ride up and down plus the terrace) and the queues are quite long! So go early in the day or late in the afternoon.
But I have a pro tip for you: you can access the walkway and the middle viewing platform for free (!) by going from the top, from Largo do Carmo. You simply have to walk up the stairs by the Covento do Carmo (Carmo Covent) and up next to the restaurant. If you want to go up to the terrace from here, you can do that for around €2, but the sights are marvellous even if you didn't.
---
Rua de Augusta
The southern part of Rossio Square is where Rua de Augusta begins. It is one of the most prominent avenues, pedestrians-only and lined with elegant buildings, tourist-focused shops and restaurants.
If you take it all the way to the end you will be met by a stunning sight of the Rua Augusta Arch (Arco da Rua Augusta). It symbolises the rebirth of a new Lisbon after the aforementioned earthquake in 1755, although it was only finished in 1873.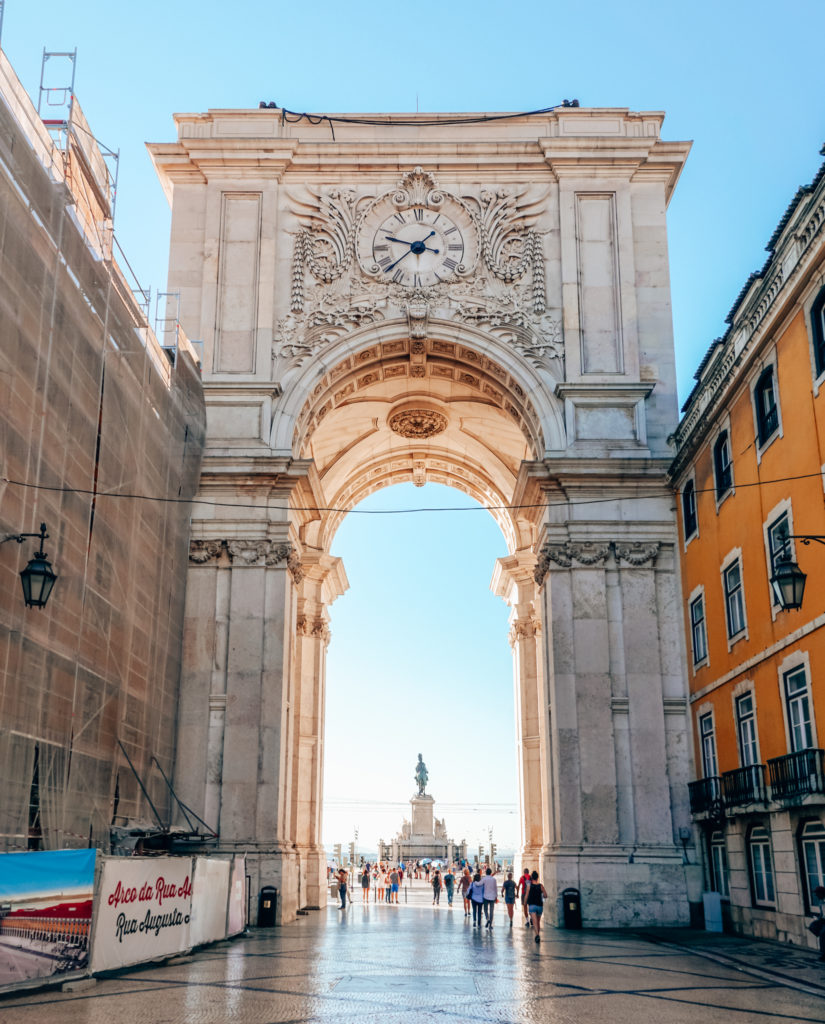 There is a viewing platform on top, where you can see over the downtown area and River Tejo (an adult ticket costs €3).
It has six columns (some 11m high) and is adorned with statues of prominent Portuguese historical figures (Viriato, Vasco da Gama, Marquis of Pombal and Nuno Álvares Pereira).
---
Praça do Comércio
Passing under the Arch you will find yourself on one of the most impressive of all of Lisbon's plazas – Praça do Comércio. Better known by locals as Terreiro do Paço, since it was once where the paço (palace), stood – it was built on the site where the old Royal Palace used to exist before it was destroyed by the earthquake of 1755.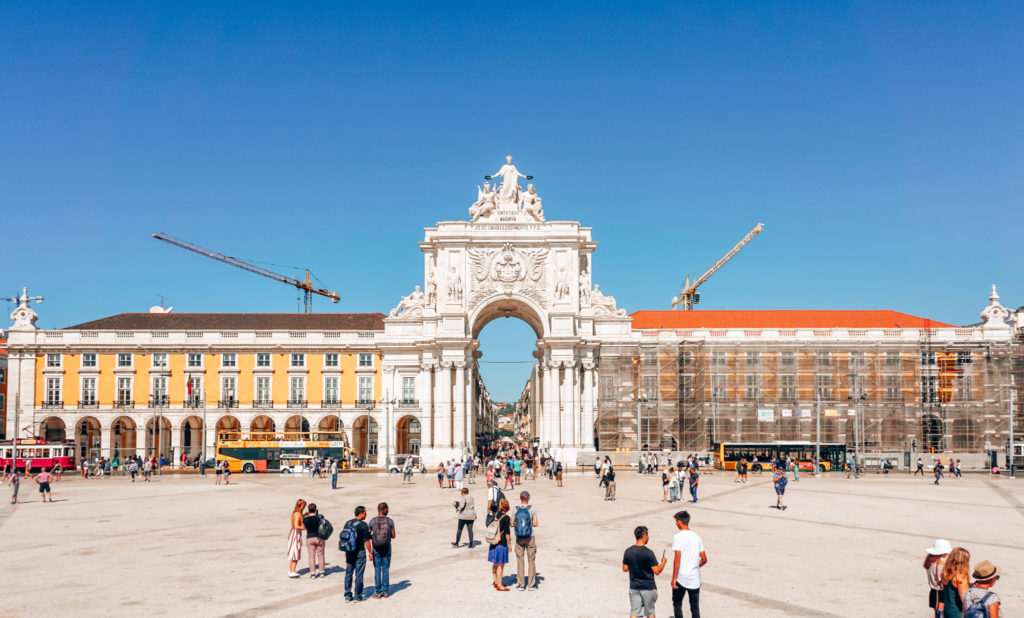 This grand plaza is surrounded on three sides by distinctive yellow Pombaline-styled buildings with arcades all along the façade, whereas the southern end is open and looks out onto the Tagus River.
In the centre stands the bronze statue of King Joseph I (Dom José I), who ruled at the time of the Great Earthquake.
---
Bairro Alto & Chiado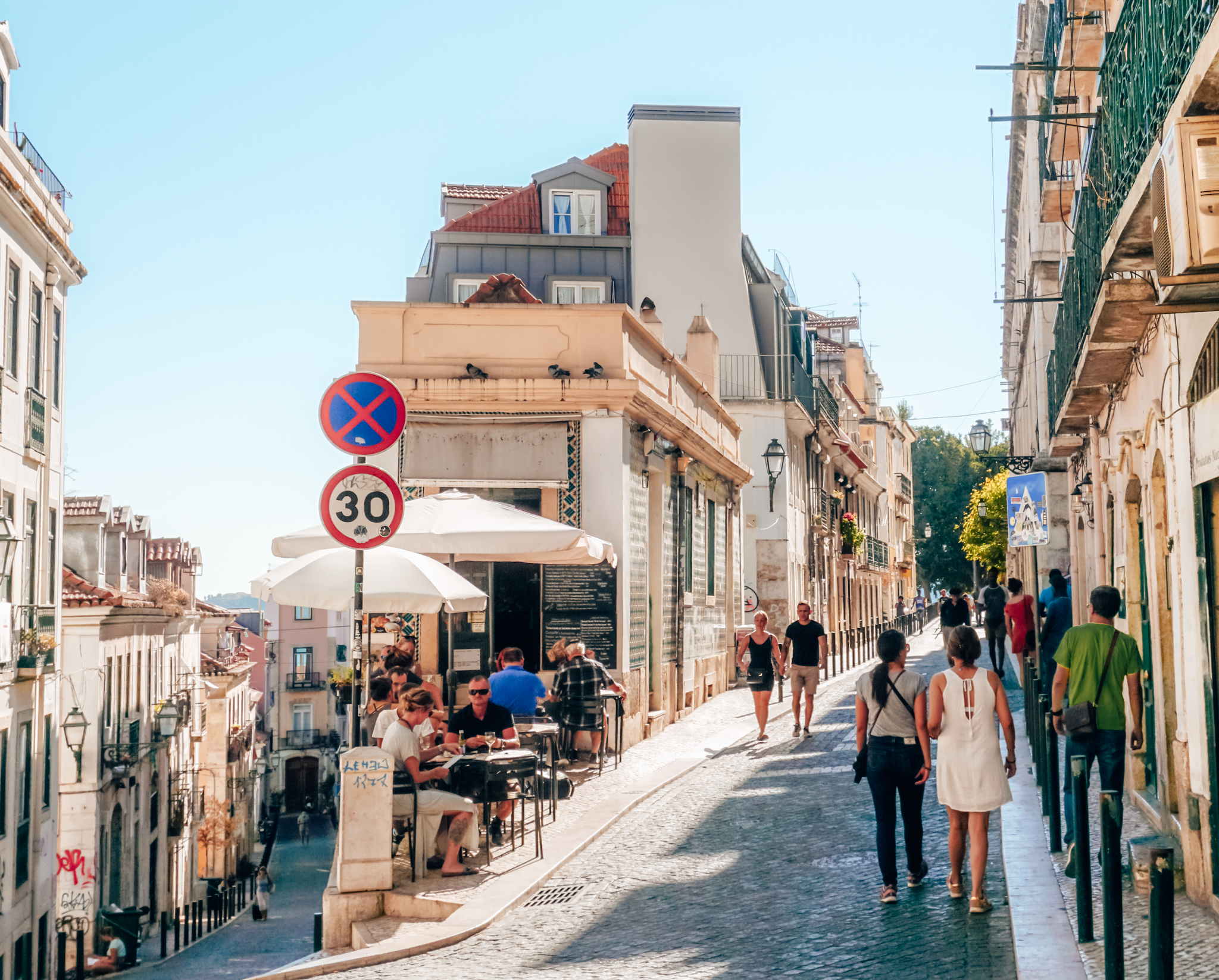 High above the central city, to the west of the Baixa, you will find Bairro Alto (meaning upper town) – a picturesque quarter dating from the 1500s, that has traditionally been Lisbon's bohemian haunt of artists and writers.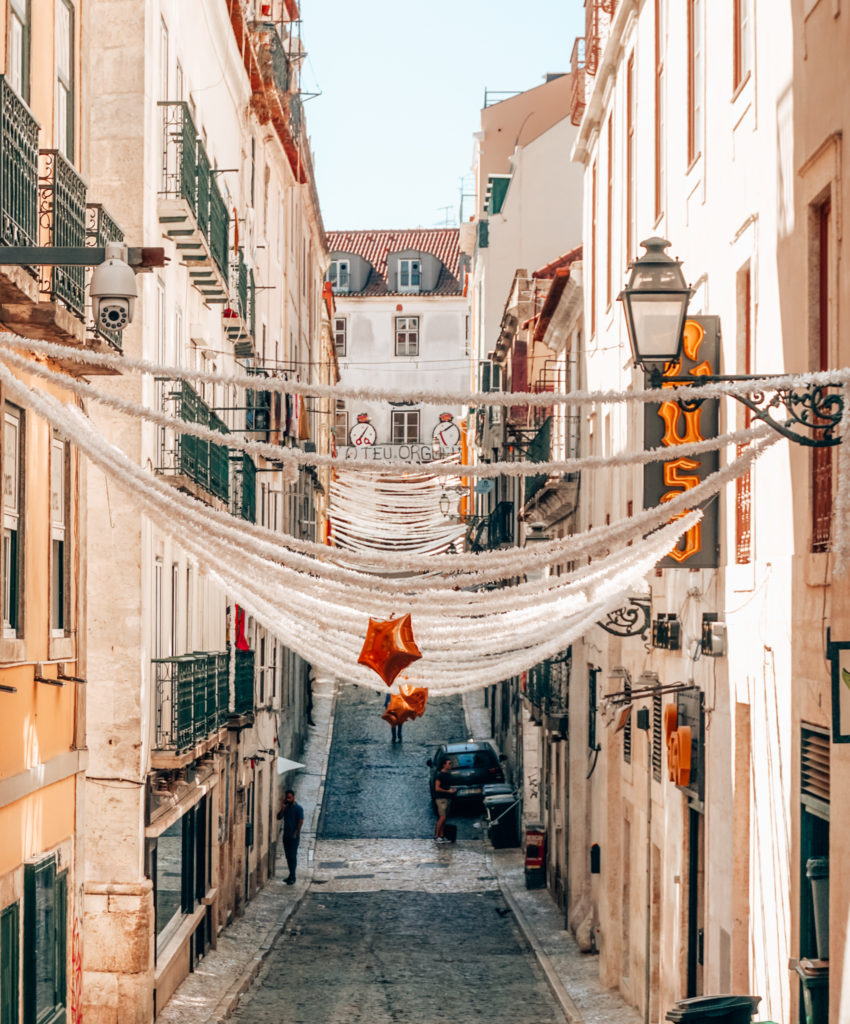 By day it has this quiet, easy feel, where you can slowly wander a maze of narrow streets with trendy, vintage and alternative shops, artists' studios, art galleries and lovely traditional family-run restaurants called tascas. But at night it becomes the most popular place to go out, as many bars, lively restaurants and fado clubs open.
---
Chiado, on the other hand, is an elegant and bohemian neighbourhood, frequently compared to Paris' Montmartre, rebuilt after it was destroyed by a fire in 1998.
It's a district of theatres, bookshops, old-style cafés, art nouveau jewellery shops and luxurious boutiques. The main commercial streets are Rua do Norte, Rua da Atalaia and Rua do Diário de Noticias and tourist attractions include the Church of Saint Roch (Igreja de São Roque) and the ruins of Carmo Church (Igreja do Carmo).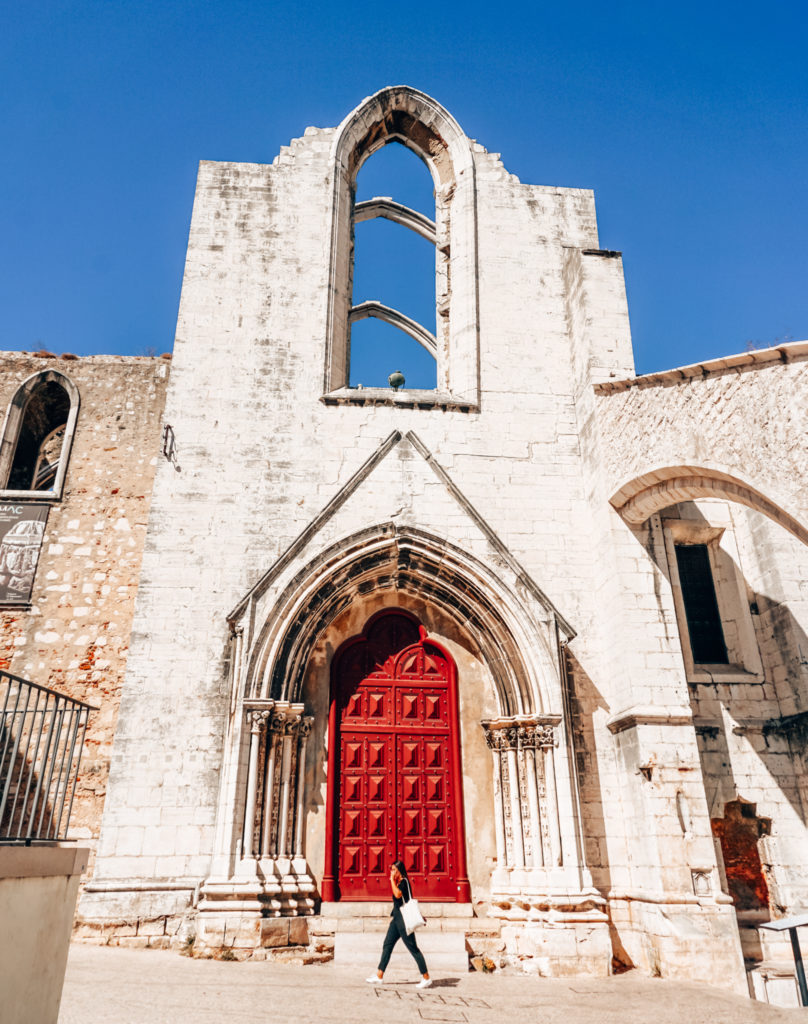 Fun fact: The district is named after António Ribeiro, a Franciscan monk who left the order to become a satirical poet and actor. His distinctive style was a shrill and high voice, hence the nickname Screech (Chiado in Portuguese).
---
Luís de Camões Square
Luís de Camões Square (Praça Luís de Camões) marks the border between Chiado and Bairro Alto. Named after Portugal's most famous poet, with a statue of him in the centre, this square was one of the sites of the Carnation Revolution on the 25th of April 1974.
It features two beautiful patterns of Portuguese pavement (calçada portuguesa), one covering the main part of the square and the other one surrounding the statue in the middle.
Igreja de Nossa Senhora da Encarnação church located next to the Camões Square (go inside to see a beautifully painted ceiling)
---
Transport
Although Lisbon is a city easy to explore on foot, those feet get really tired climbing the steep streets. So there are great solutions to help you with that, which Lisbon is actually famous for: funiculars and trams! There are six tram routes, three funiculars, and one vertical lift – Santa Justa.
Funiculars
All three funicular railways (ascensors) in Lisbon were designed by Raoul Mesnier de Ponsard. That is the same engineer who designed the Santa Justa Lift! The price of a ticket when bought on board is €2.90, however, with the Viva Viagem card this is €1.45.
---
Ascensor da Bica
It is the most picturesque one.
It operates from near the waterfront at São Paulo Street, up and down the picturesque Rua da Bica de Duarte Belo, to Calhariz Square in Bairro Alto on an 11.8% incline.
It is the only funicular that runs straight through the street with actual houses on both sides.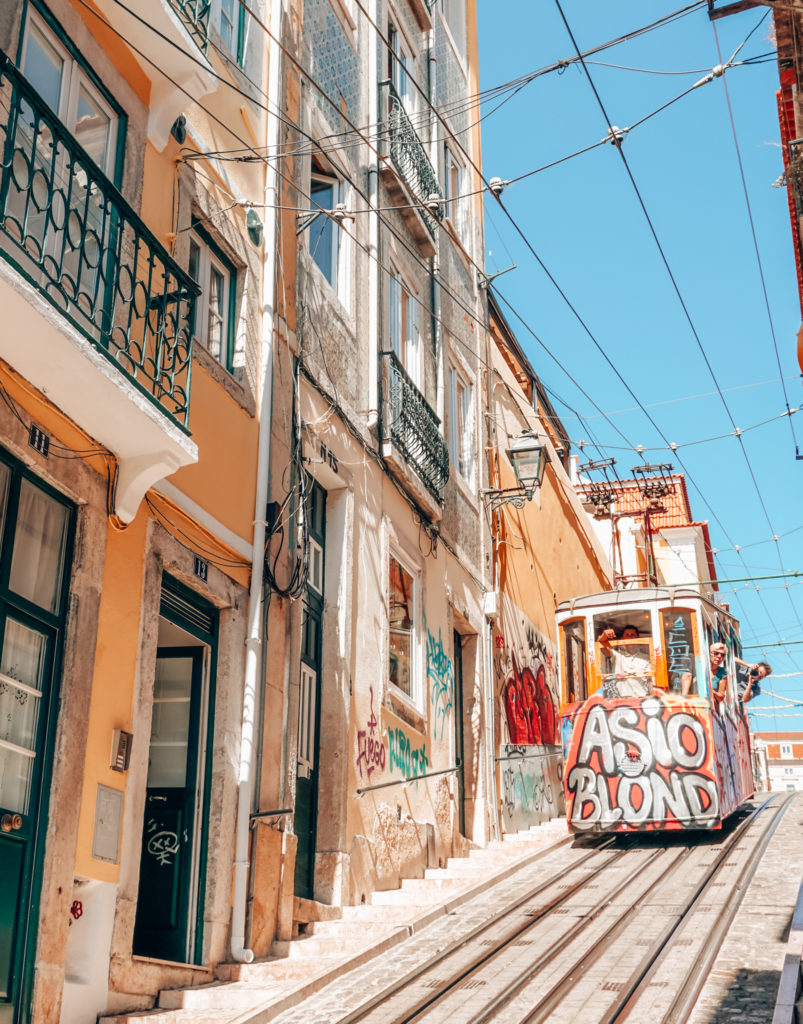 ---
Ascensor da Glória
It offers a 275-metre ride from Praça dos Restauradores to Bairro Alto (Jardim de São Pedro de Alcântara) on a 17.7% slope. And there are actually 2 lines running parallel to each other, so it's a very cool experience when on board, to drive past another tram 🙂
It is the most popular funicular among tourists and locals, so expect long queues to jump on board!
---
Ascensor do Lavra
It's the city's oldest cable car (opened in 1884), but the least touristy. It runs between Anunciada Square to Câmara Pestana Street and its 188-metres long route is the shortest one, but the steepest (22.9% incline).
At the top, you can take a stroll to the Jardim do Torel, a small local park, offers great views over the Baixa area. 
All three funiculars were classified as Monumento Nacional (National Monument) in 2002.
Trams
If you're tired of climbing all of the steep streets (and rightfully so!) you can easily jump on one of Lisbon's famous trams (or elétricos). They are truly a symbol of the city, so it seems essential now to get aboard a vintage yellow tram and enjoy the screechy and rattly ride through the narrow city streets.
The most popular among tourists is Tram 28, going from Martim Moniz to Campo do Orique and winding through the districts of Graça, Alfama, Baixa and Estrela for around 10 km. So it's an easier way of getting close to all of the attractions and viewpoints, as well as getting a great overview of the downtown area.
This route gets really busy with tourists, so sometimes you have to queue up at the tram stop and wait for quite some time. If you'd like to secure a seat the best thing to do is to show up very early at the first stop on Martim Mortiz.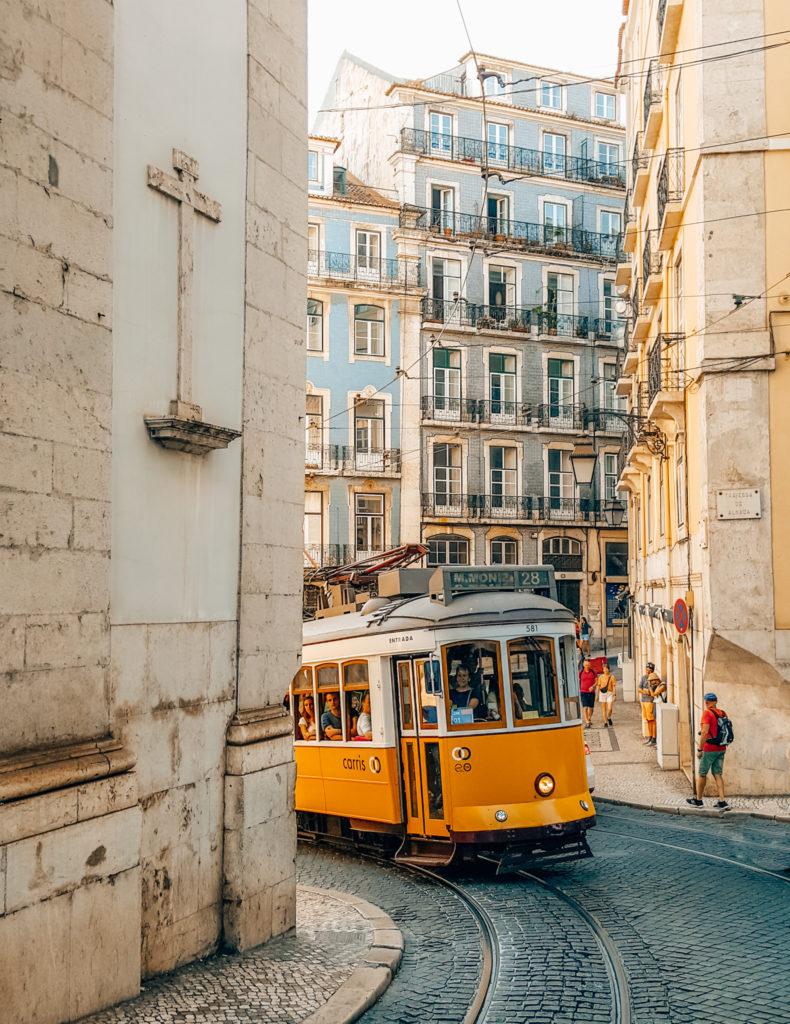 Quick tip: You can purchase a single ticket on board for €3.00. But a much better option is the 24-hour public transport ticket, which includes the metro and all tram and bus services, as well as Elevador de Santa Justa and the Elevador da Glória. This ticket costs €6.40 and can only be purchased from the metro stations.
If you'd like to feel how it is to ride on Tram 28, take a look at this video! 👇🏻
---
Other attractions in Lisbon
There are also a few other places that you might like to visit if you have enough time ⬇️
LX Factory
LX Factory is a modern hip art centre that is home to various start-up businesses, like funky restaurants, cafés, bookshops, art galleries and workspaces.
Sitting almost directly below the 25th of April Bridge, its graffiti walls and decadent look is a testament to the revival of the former super-industrial complex from 1846. Now the LX Factory is considered to be one of the most creative and innovative hubs in Portugal.
---
A place you should definitely pay a visit to while in the LX Factory is Livraria Ler Devagar ("reading slowly" in Portuguese). This alternative bookshop, concept store, art gallery and internet café were named one of the 10 most beautiful bookstores in the world!
Time Out Market Lisbon
Time Out Market Lisboa is a food hall located in the Mercado da Ribeira at Cais do Sodré.
Lisbon's Mercado da Ribeira has been a landmark since the 1890s, but it has become a trendy culinary hotspot only when it was converted into a food court by 'Time Out Lisbon' in 2014.
It is a foodie's heaven with more than 30 restaurants and bars, where you can spend half a day sampling food from some of Portugal's most famous chefs, some even Michelin-starred!
Pink Street
This is one of the most Instagrammed streets in the city, probably 🙂
Located in Cais do Sodré district Rua Nova do Carvalho used to be Lisbon's Red Light district actually! And now, years later, it is a trendy nightlife spot, with many popular bars and clubs.
The metamorphosis happened in 2013 when, to turn the neighbourhood's shady reputation into something hip, the street was painted pink. And since then it's been called by locals Rua Cor de Rosa.
25th April Bridge
The Ponte 25 de Abril bridge is one of Lisbon's most notable landmarks. It is the largest suspension bridge in Europe (1013m) and the 20th longest in the world! It closely resembles the Golden Gate Bridge in San Francisco and it's often called its twin sister, but it's actually 100 metres longer than its 'brother' 😉
And if you decide to cross the bridge you can take a close look at the monument of Christ the King (Cristo Rei) and you'll get a fantastic alternative angle looking down on the bridge and central Lisbon.
---
As you can see Lisbon is a fascinating city full of charisma, history, monuments, vintage streetcars and gorgeous sights. So whether you have just a weekend or a full week to spend here you will find an abundance of things to see, do and eat. And it will probably become a place you will want to return to!
---
Love,
Jo xx